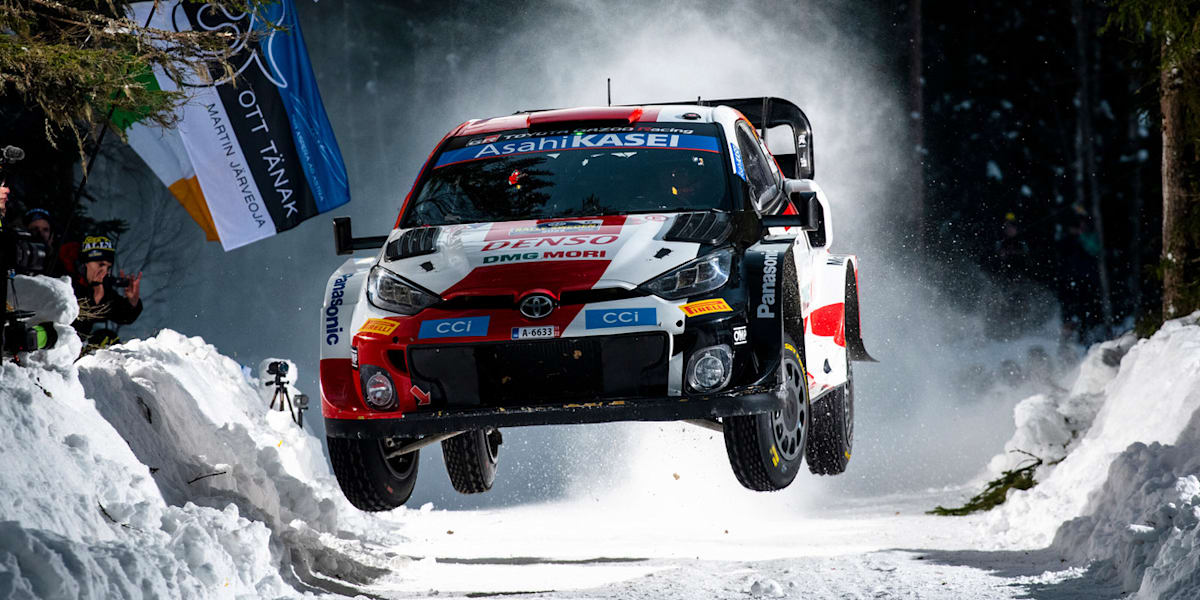 WRC Rally Sweden 2022: victory for Kalle Rovanperä
Twenty-one years ago, Harri Rovanperä could have had no idea what was about to happen. The sympathetic Finn had broken his WRC duck and won

Sweden Rally

– a story to tell his four-month-old son who is waiting at home in Jyväskylä. Fast forward a generation and it's that same son – the one now 21

Kalle Rovanperä

– which is taking Sweden by storm.
"I don't know, I don't know," smiles Rovanperä Sr. "Maybe Kalle is different. He already has three wins, that's two more than me. Honestly, he's a 21-year-old He's already 30. He's so mature and so focused on what he's doing, he's a different generation.
"But, nice story all the same. When I won Sweden [in 2001] I didn't expect to talk so much about this rally 21 years later."
How did Rovanperä do it?
In reality, it was Rovanperä junior who was the subject of discussion. His mastery of this rally was quite masterful. He had once noticed the close attention of some seemingly revitalized Hyundais and the even closer attention of his Toyota teammate.

Elfyn Evans

there was no doubt that the Finn would achieve his first WRC success in the snow.
Coming into this event, Rovanperä wasn't quite the rank underdog, but he wasn't too lucky. Third in the championship standings after

Last month's Monte-Carlo Rally

the 21-year-old was running first on the road – remember, round one winner and runner-up

Sebastien Loeb

and

Sébastien Ogier

had already decided to skip the second round.
Rovanperä isn't much of a mind gamer, but he was definitely downplaying his chances of victory after the northern town of Umeå was blanketed in heavy snowfall in recent weeks.
Craig Breen, the second man in Friday's stages, said it better than anyone. "How many Montes Loeb and Ogier have they won between them? he asked rhetorically. "And how many Swedes?"

We had a few moments on the brakes, but we got through it
The answer is 16 and four.
By way of explanation, Breen added: "That tells you everything you need to know about what it's like to win Monte and then go first on the road in Sweden."
The difference for Rovanperä, it seems, was the conditions. When the temperatures hit the freezing point and the rain started to fall, it immediately froze on the cold roads. It helped him. This meant there was less snow to shovel, making the roads faster for those following. Even better, the ice base now gave his Pirelli cleats something more substantial to grip.
Friday wasn't just for the Yaris Rally1 star. Both Rovanperä and Evans were forced to give the Hyundai man their best

Thierry Neuville

, who fought his way forward in an i20 N Rally1 that had been miles off the pace in the French Alps. "I think we gave the team something to smile about," smiled the early leader.
But when Rovanperä burst in the opener on Saturday morning, nothing stopped the Finn from flying to the finish.
Evans was 8.3 seconds behind in second place going into the final day but a spin, encounter with a snowbank and a hybrid-related issue forced the Welshman out.
Like his father, Rovanperä is not a man who talks a lot. Typically, he let his fans do much of the celebration upon arrival.
"It's been a good weekend," he offered, a little timidly. "Monte hasn't been that easy with this car, so it's really good to come here and win, especially after being the first on the road on Friday. It was a shame for Elfyn this morning, it was a good fight, but it's good for the championship and good for Toyota."

And the 21-year-old thing?
"Yes," he smiled. It's good to win the same as my father."
Rovanperä now lead the drivers' championship by 14 points, while Toyota overtook M-Sport Ford to take the team lead by 24 points.
Toyota's cause was aided to no end by an exceptional return to the Japanese factory team of Esapekka Lappi. The Finn, who has not driven a factory car at the highest level for over a year, finished third, along with fellow countryman Yaris

Takamoto Katsuta

a solid fourth.

It only took one step for the succession to break out in the Korean camp. After a disastrous Monte, where only one i20 N Rally1 finished, the top four spots after Rally Sweden SS1 were filled with three Hyundais and Neuville leading.
The Belgian remained in the lead on Friday night, but when he couldn't dial the car on the weekend roads he was swept aside by Rovanperä. Third place seemed to beckon until Evans' morning swim. Neuville was delighted with his second place.
"I had a good feeling on Friday, but it wasn't quite the same on Saturday and Sunday," he said. "It was a bit more complicated. I lacked confidence and of course we had a few braking moments, but we got through it and it's fantastic to bring this result to the team."
Neuville's teammate Oliver Solberg rounded out the top six, with Ott Tänak's i20 ruled out on day one by a freak hybrid issue. The car was running without fail, but the car's HV safety light went from green to red and the rules say you must stop if this happens.
M-Sport's hopes of retaining their championship lead were dashed on stage two when Craig Breen dropped his Puma in a snow bank, but Gus Greensmith was a good fifth despite hybrid and trailing issues. transmission.