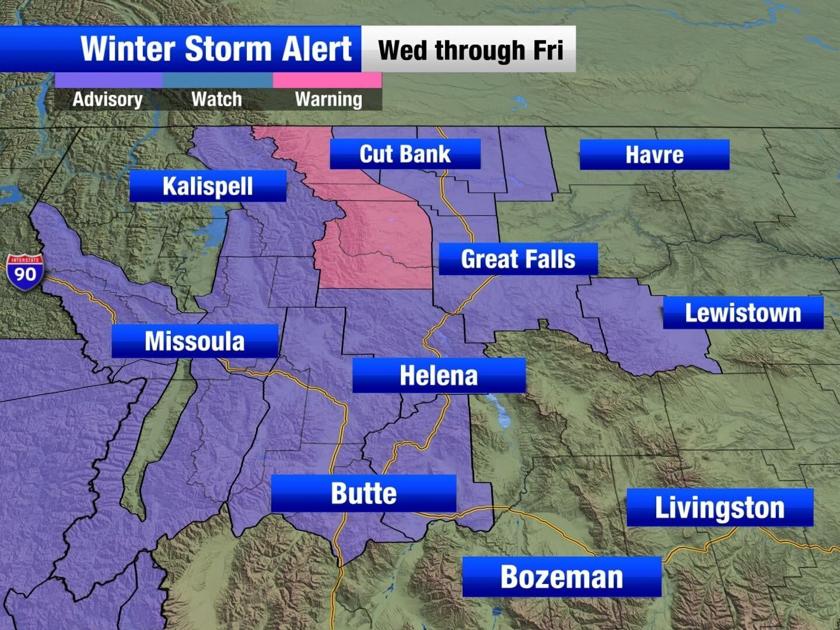 WEATHER AUTHORITY ALERT: Spring snow will impact western and central Montana | Regional
A WEATHER AUTHORITY ALERT is in place from 9 p.m. Wednesday until 9 a.m. Friday for a spring snow event.
Wind advisories are in place until 9 p.m. for Flathead Lake in northwestern Montana and Wednesday at 4 a.m. for Fort Peck Lake in northeastern Montana. Gusts of up to 35 mph are expected.
A strong wind warning until 8 p.m. for the Rocky Mountain front with gusts up to 65 mph.
A winter storm warning Wednesday to early Friday for Glacier Park and the Rocky Mountain front as well as Browning in Choteau. 6 "to 14" snowfall expected.
A winter weather advisory from Wednesday evening to early Friday for central and west-central Montana. This includes the towns of Great Falls, Helena, Cut Bank and Butte. Snowfall from 1 inch to 4 inches.
Snow will have an impact on travel; slippery conditions are expected.
A cold front is crossing Montana today. Temperatures behind him in the 50s and 60s behind and the 70s and 80s, close to 90s, before. It can cause a few showers.
However, the main storm is yet to come. A massive area of ​​cold core low will lie over the western United States. The puts the state in a good position for much-needed rain and snow, with the heaviest on the east side of the division in central Montana. Precipitation will vary from 0.10 "to 0.75". A few areas might see an inch. Precipitation will cease Friday evening and early Saturday.
Lows in the 1930s and 1940s, falling in the upper 20s and 1930s on weekends and weekends. They will rebound in the 30s and 40s later next week.
Highs in the 50s in the center and west on Wednesday, with lower 60s to 70s in the east.
Highs falling into the upper 30s and 40s on Thursday and Friday. Highs will rebound to the 50s on Saturday and the 60s and lower 70s on Tuesday.