the latest episode of the IPCC report – The Echo
The Intergovernmental Panel on Climate Change (IPCC) is responsible for the most comprehensive body of scientific information on climate change.
In its follow-up to its sixth assessment report, published on February 28, the IPCC examined the vulnerability of the world's population to climate change and what needs to be done to adapt to current and future changes.
This is the second of three sections of this report (Working Group II) – the Working Group I section, published last August, demonstrates that anthropogenic climate change is continuing, while the Working Group I component III, on mitigation, will be published in April. A global report is forthcoming in September.
The IPCC reports represent a phenomenal amount of work by hundreds of researchers and government officials. It synthesizes information from more than 10,000 studies, with more than 62,000 comments from expert reviewers.
Literally every sentence of the Summary for Policymakers has been approved by consensus by a panel of experts and government delegations – the line-by-line approval process alone takes a fortnight. The entire report is the product of several years.
Given the time and expertise required to write the report, its conclusions are not telling: the world is becoming increasingly vulnerable to the effects of climate change, the poorest people are often the most exposed, and the Adapting to these effects will force changes in our way of life, infrastructure, economy and agriculture.
If adaptation is necessary, it is also insufficient. "It is increasingly clear that the pace of adaptation across the world is not sufficient to cope with climate change," says Professor Mark Howden, Working Group II Vice-Chair and Director of the Institute for Climate, Energy & Disaster Solutions at the Australian National University.
According to the IPCC's projected emissions scenarios, the climate could warm much more or slightly more, depending on the amount of greenhouse gases released into the atmosphere.
"Depending on the trajectory we're on, our options for adaptation differ," says Howden.
On our current business-as-usual trajectory, we cannot avoid crisis, no matter how much we modify our human systems to prepare for or recover from the ravages of climate change.
"Climate adaptation and risk management are not enough on their own," says Howden.
The report comes at a relevant time for Australia, as southern Queensland and northern New South Wales experience dramatic flooding from heavy La Niña-related rainfall.
"One of the clear projections is an increase in the intensity of heavy rainfall," says Professor Brendan Mackey, director of the National Climate Change Adaptation Research Facility at Griffith University and lead author of the report's Australasian chapter.
Mackey also notes that he has extended family members in Lismore, NSW, who today need to be rescued from their roofs as the town is flooded.
Howden says that while it is difficult to link individual disasters to climate change as they occur, he agrees that there are more floods predicted for northern Australia.
"I think we can say that climate change is already baked into this event," Howden adds.
"These events are driven, in particular, by ocean temperatures, and we know very well that these have increased due to climate change due to human influence."
He points out that flooding is a common side effect of a La Niña event, with more expected as the climate warms.
Floods are not the only extreme weather event that can be linked to climate change.
"We've seen additional warming and sea level rise, we've seen more flood days and heat waves, we've seen less snowfall," Mackey says.
'Interesting way, [we've observed] more precipitation in the north, less winter precipitation in the southwest and southeast, and more extreme fire weather days in the south and east.
All of these trends are expected to continue, especially under high emission scenarios.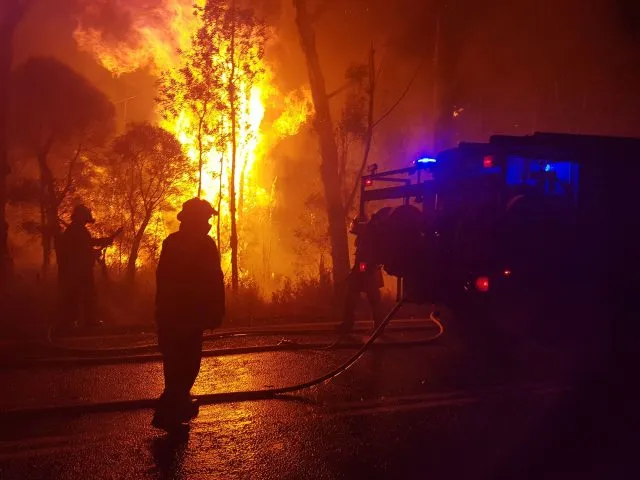 For Australians, predictions the IPCC has made with very high or high confidence include: both a drop in agricultural production and an increase in extreme fire-related weather across the southern continent; a nationwide increase in heat-related mortality; increased pressure on cities, infrastructure and supply chains from natural disasters; and inundation of low-lying coastal communities due to sea level rise.
There is also great confidence that lower snowfall will reduce alpine biodiversity. Forest ecosystems (alpine ash, snow gum, pencil pine and northern jarrah) in southern Australia will transition or collapse, and heat waves and sea level rise will damage other terrestrial ecosystems. Marine heat waves are projected to damage or destroy coral reefs and kelp forests, again with high or very high confidence.
The final high-confidence prediction is that Australian institutions and governments are currently unable to manage these risks.
"The impacts of climate change are becoming increasingly complex and difficult to manage," says Professor Lauren Rickards, Director of the Urban Futures Enabling Capability Platform at RMIT, also lead author of the Australasia chapter.
"Not only are climate hazards becoming more severe – including, at times, non-linear effects such as, for example, the overturning of flood levees that have historically been sufficient – ​​but these climate hazards also intersect in very, very complex ways. . And in turn, the flow effects on the ground interact, causing what are called cascading and cumulative impacts.
She adds that many local and state governments and the private sector have both recognized the importance of changing their practices to prepare for or respond to climate extremes.
"We have these systems, these infrastructure systems – energy, transport, water, communications, for example – and it is the need to adapt those that underlie much of the adaptation that is needed. "says Rickards.
Australia lacks significant investment in research into how different places and systems can adapt to climate change.
"We've seen a significant reduction in research on actions that different individuals, communities, sectors can take," Howden says.
"And what that means is that we don't have the portfolio of options available to people in a way that's easily communicated, easily understood, and easily adopted."
Without this research, as well as the work of local and indigenous experts, some adaptations may even risk worsening the impacts of climate change.
"The evidence we reviewed shows very clearly that adaptation strategies, when they build on indigenous and local knowledge and incorporate science, are where they are most successful," says Dr Johanna Nalau, Adaptation Science Research Theme Leader at Cities Research Institute, Griffith University.
While the risks Australia faces are dramatic, things are far worse for other parts of the world. Nalau, who was a lead author of the report's chapter on small islands, says that "most communities and countries are limited in what they can do in terms of adaptation."
In April, we will have access to the IPCC dossier on climate change mitigation and emission reduction. But in the meantime, the battalion of Task Force II researchers is advocating for better planning for climate disasters, more research into the ways human systems can adapt, sustainable and just development around the world, and a rapid reduction in climate change. emissions.
"Adaptation cannot be separated from mitigation, conceptually or in practice," says Rickards.
"We need adaptation to enable effective mitigation. We need effective mitigation to allow adaptation to have a chance to succeed. Right now we are off track and need to pivot quickly.
---
This article originally appeared on Cosmos Magazine and was written by Ellen Phiddian. Ellen Phiddian is a science journalist at Cosmos. She holds a BSc (Honours) in Chemistry and Science Communication, and an MSc in Science Communication, both from the Australian National University.