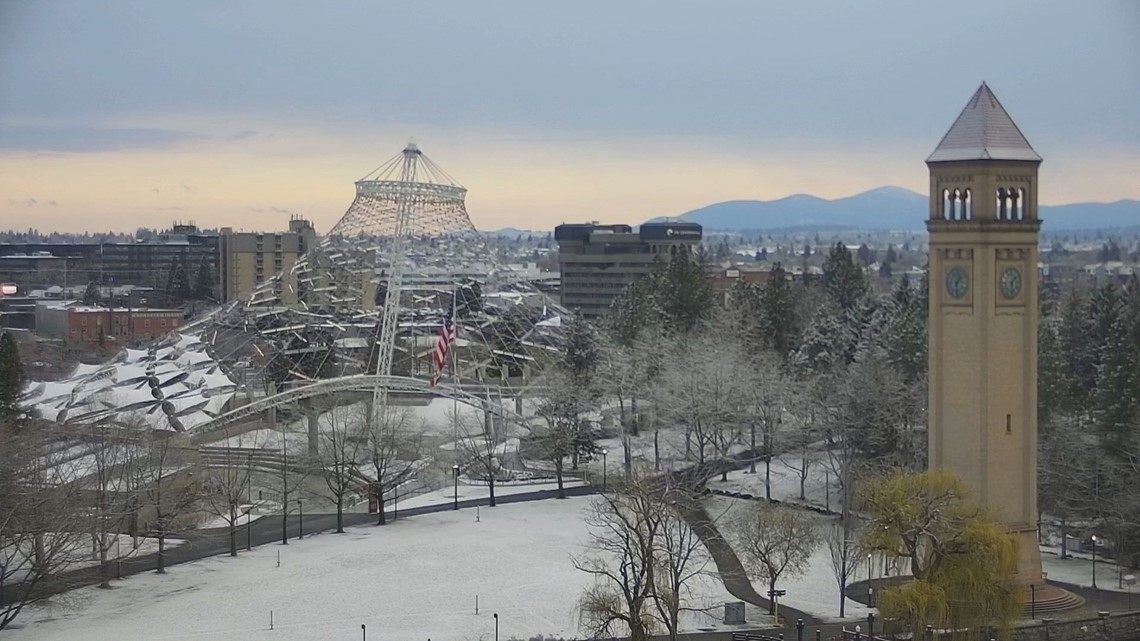 Spring Snow in Spokane, Northern Idaho: Here's What to Expect
Spokane and much of the interior northwest received an inch or more of snow Friday morning. Some roads are slippery and drivers should be prepared for spring snow.
SPOKANE, Wash. – Spring? Not here in the Inland Northwest, at least not yet.
Snow fell in parts of eastern Washington and northern Idaho late Thursday evening and Friday morning, covering recently budding trees and plants with a blanket of white.
Washington State Department of Transportation (WSDOT) warned drivers about the accumulated snow and slush on some highways in the region, urging people to drive according to the conditions.
"It's snowing in Spokane…and it's April 14th. Insane…", WSDOT tweeted.
As of 6 a.m. Friday, the National Weather Service tweeted about a pair of circulations circling over the Spokane area, including areas near Coeur d'Alene, Davenport and as far west as Ritzville.
>> Download the KREM 2 Roku and Amazon Fire apps to watch live newscasts and on-demand videos
"Snow showers develop around each low and between counter-clockwise wind fields where the winds converge," the NWS said. tweeted.
Snow totals vary across the region depending on where the heavy snow showers hit. A report from Hangman's Valley noted more than 4 inches of snow, while parts of Spokane's South Hill saw about an inch of snow.
Roads are generally clear, but with sub-freezing temperatures, night drivers should be prepared for some slippery spots, especially on neighborhood streets.
Spokane, Coeur d'Alene and the Palouse all remain under Winter weather advisory until 8 a.m.
While the snow is lighter this morning, KREM 2 meteorologist Thomas Patrick said scattered snowfall could continue until sunset tonight at the latest.
Weekend Forecast
Another storm system will push south to northeast across the interior northwest Saturday afternoon and evening. Rain and/or snow are likely between the Palouse and all of northern Idaho. Lower elevations may see between a dusting and two inches of new snowfall with this storm. Spokane is right on the edge of the trail, but rain/snow is possible.
Easter Sunday will be largely dry, but the mountains could see a stray downpour. Otherwise, the highs will climb into the 50s for the first time in a long time.
Temperatures will remain in the 50s through next week, but a very unstable weather pattern will bring a daily chance of rain and possibly thunderstorms on Tuesday.