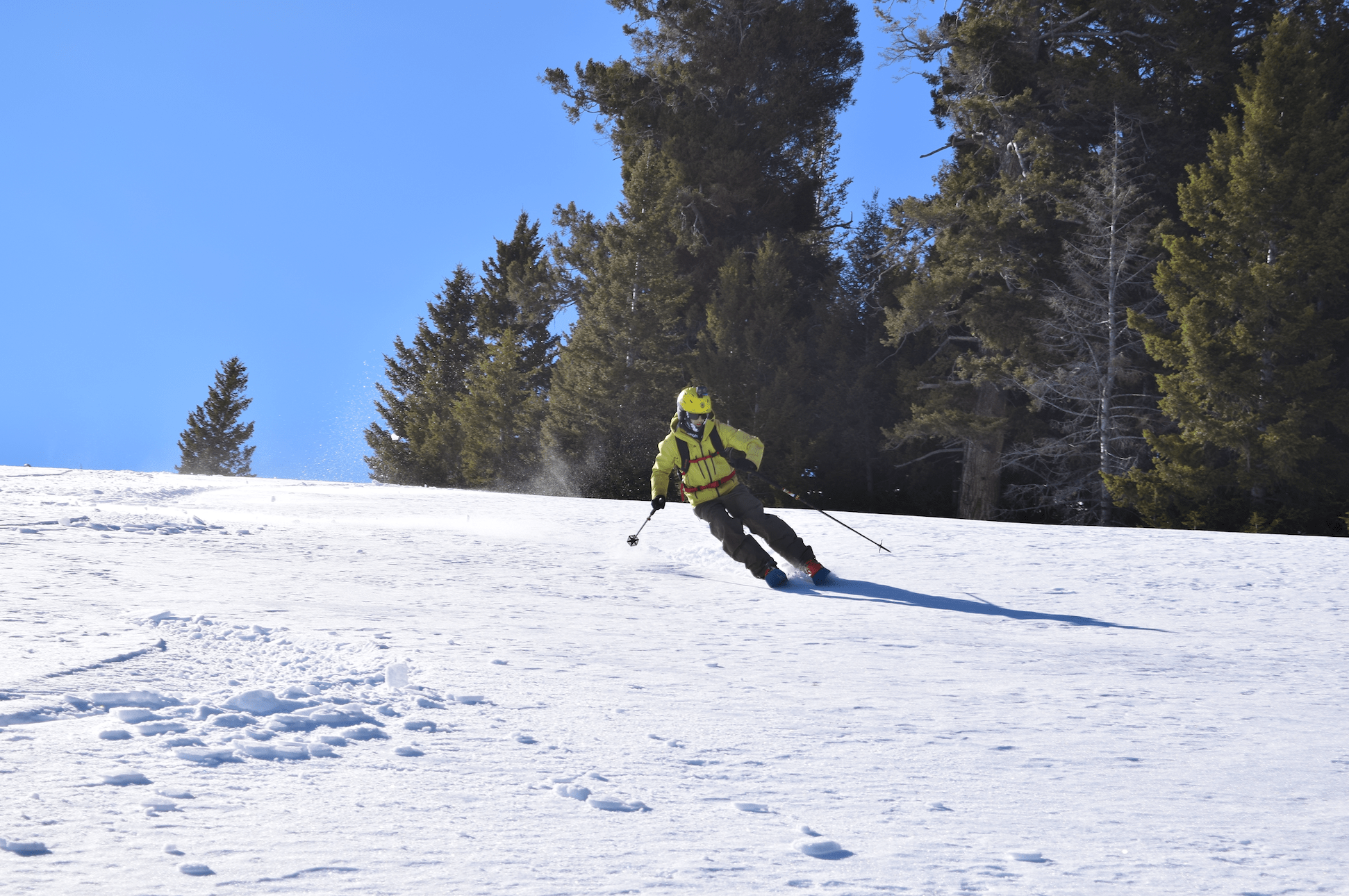 Soldier Mountain, ID Cat Skiing Report: Corn in the morning, powder in the afternoon
Report from Sunday, February 13, 2022
Presented by Ski Idaho and Visit Idaho
The West is depraved. High pressure and lack of snow are mainly to blame. But there is hope in the mountains of southern Idaho, where I skied the best snow I've encountered in a month-plus with the Soldier Mountain cat ski operation this week.
Soldier Mountain is a remote ski area in a weird mountain range in an even weirder part of Idaho that you'd probably forget to pass on the highway. But if you decided to stop by and check it out, you wouldn't soon forget skiing there, especially if you were lucky enough to reserve a spot on their snowcat.
The complex was built in the post-war period around 1947 and was even once owned by actor Bruce Willis. It has 1,180 acres accessible by lifts and a few thousand additional acres of backcountry terrain accessible via its cat ski operation. This report is for those few thousand acres that we skied on Sunday.
I arrived at Soldier Mountain at 8:30 am on Sunday after leaving the Prarie Inn in nearby Fairfield the night before (the Pararie Inn is a great place to stay for skiing at Soldier Mountain from out of town, by the way – neat lodge, rustic vibe, clean rooms, etc.) Five other heads showed up, and backcountry guides Micah and Ryan gave us all the debriefing and got us ready for a fun and safe day of skiing in the hinterland.
The first thing guides Ryan and Micah had us do once we loaded up the cat and climbed the mountain was a short beacon training and mock burial clinic. This was to familiarize us with our backcountry gear in case one or more of us got caught in an avalanche. The guides made it quite fun, having us compete against each other to see who could assemble our snow probes and shovels the fastest to win a prize. Asher, a 14-year-old wild skier, won the crown there.
Once we did a little beacon training it was time to ski. It was unusually warm and sunny with blue skies and no wind. It was like spring and snow too. The avalanche danger was generally low. The south faces were warming up nicely and producing good corn skiing. We hit a couple of those south faces and I skied my first corn run of the season. It was a little weird skiing a spring snow texture in mid-February, but I wasn't complaining; it was smooth and well skied and that's all that matters. Don't fix something that isn't broken.
After corn skiing we were all warmed up – time to go powder hunting. Ryan and Micah knew the spots. They knew the area well.
We took north facing tree tracks that were just soft enough. It was leftover, recycled powder that skied better than anything we had skied recently. The more we skied and the more we loaded the cat, the better and better the slopes looked as Micah and Ryan pulled out of their bag of tricks. It felt like they were deliberately luring us in with softer, more secret runs to keep us energized throughout the day. They did a great job.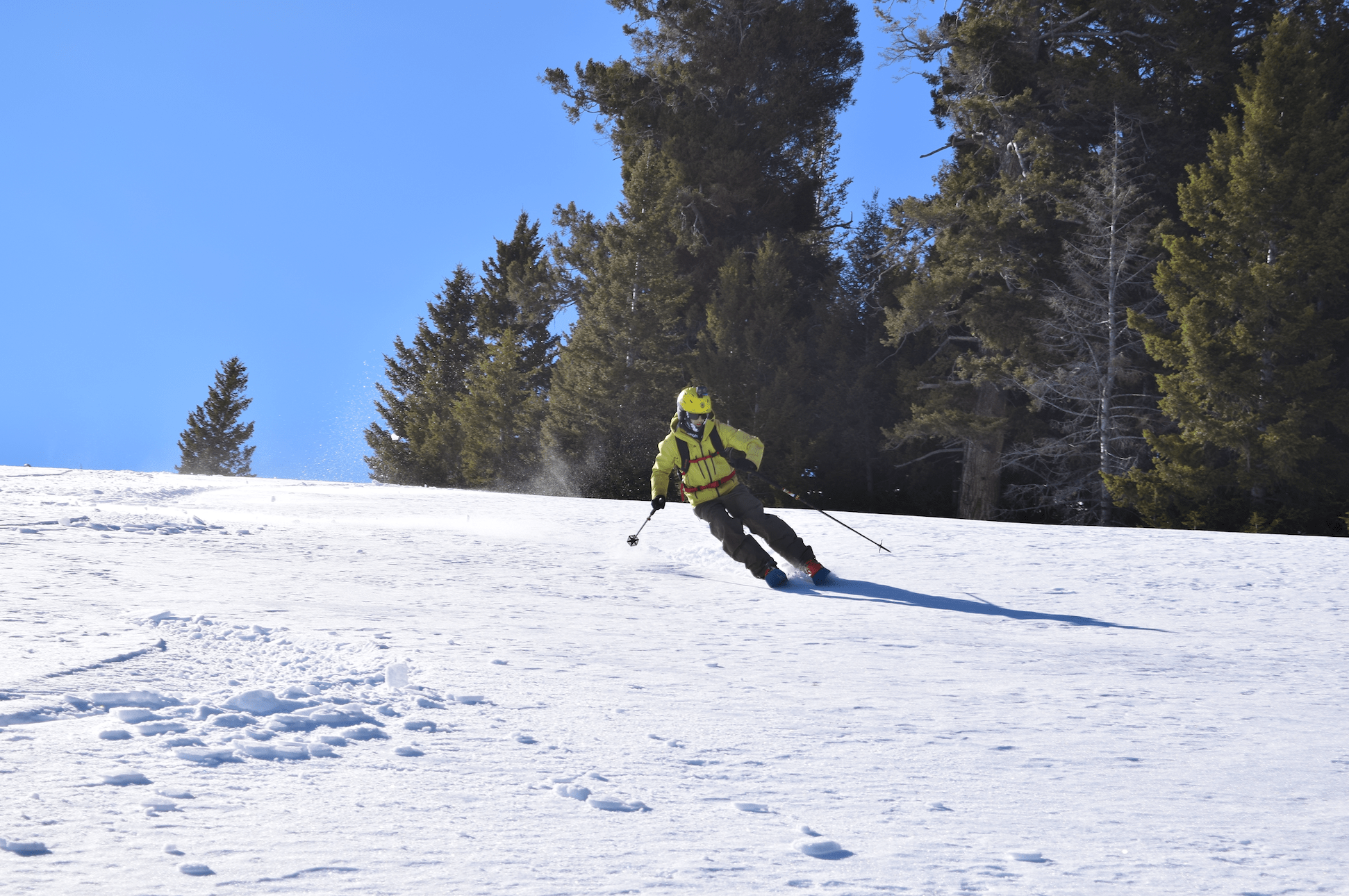 After skiing in the trees facing north, we reached clearings and then open powder slopes. The wide open powder trails they took us to were legit powder trails. I was doing the first powder turns I had in a month – stringing together fast, confident turns at the start, then doing big GS turns in soft powder fields. It almost brought a tear to my eye.
Ryan and Micah told us we were the first group to ski some of the runs we did that day. I was honoured. They were great races. For not having really snowed for a month, the powder was still phenomenal. This cycle continued for the rest of the day; we ski a gentle run then back into the cat and back up the hill to do it all again. I could get used to it.
For the grand finale, we headed to Peak 1 to ski Chute 1: a steep, east-facing fun and technical ski area. From the cat's window, it looked like a huge field.
Chute 1 was shaded when we got there and skied firmly and fast. It was a super fun steep scramble that twisted to the right before emptying out into a small pool with small trees below. Asher and Hudson, two young bloods from a town near Twin Falls, tore it up with confidence, inspiring me to load it hard. So I did, slipping almost once or twice on the steep snow but holding onto it just enough to ski up and down without stopping. It was a wonderful cap for the day.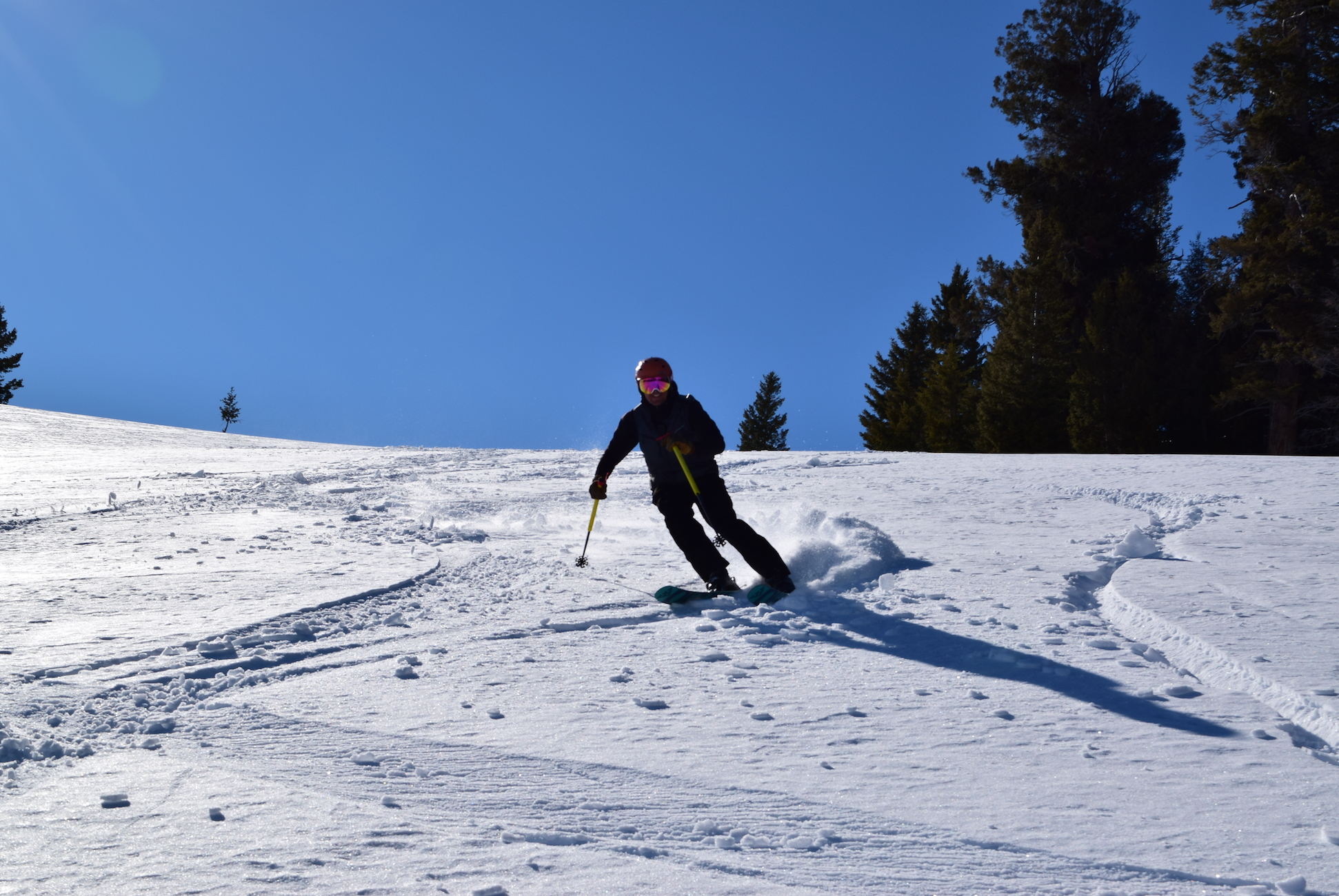 From there we skied over a 'backcountry lady' to the station below and then through the ski area to the base area. By the time we got back to the lodge, the sun was setting and the mountains were beginning to take on a sunset orange hue that signals a day well spent in the mountains.
Ryan and Micah were excellent guides with impressive knowledge who spent an inordinate amount of time in the area. I'm grateful to them for showing us their powder spots and making the day as fun as it was. Ten out of ten would go catskiing with them again. Thanks also to the cat ski driver, he was good behind the joystick. Thank you for shuttling us all day.
The backcountry behind Soldier Mountain is huge. There is a little something for everyone; fast slopes with corn snow, steep faces that will wrinkle you, incredible runs in the trees with powder reserves that stay good forever and wide open bowls with soft snow skiing bliss. But there's even more than that that you'll just have to see for yourself when you return to the Soldier Mountain snowcat. Good luck skiing everything.