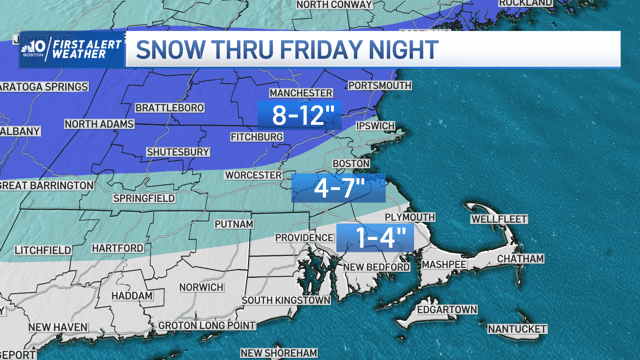 Record time before snowstorm Friday – NBC Boston
Did you enjoy this 60 degree day? We certainly hope you were lucky enough to make the most of this fine weather given that it will be over by tonight.
record temperatures
Our temperatures soared to the upper 60s in southern New England and upper 50s in the north with a few isolated showers, Boston set a new record with a high of 69 degrees this afternoon.
Now that our skies have cleared, our lows will continue to drop to the teens overnight, 20s in the south with single digits in the north. Get ready to dress like winter tomorrow and watch a dry Thursday turn into a winter wonderland Friday morning. Since we have a first warning stamp for Friday, let's talk about the concerns we will have for this stormy day and what you need to do to be prepared.
Warmer weather will pass soon and some areas could see up to a foot of snow on Friday.
When is the snow time?
Friday's snow will arrive early, between 3 and 5 a.m., which means that by the time you're likely to wake up, you'll be looking out the window at the snow. Our storm will only be getting started at this time, our heaviest rainfall moves from 7am to -10am across much of New England and spreading northeast.
The timing of snowfall in northern Maine will be later in the morning through early afternoon. But 5 of our 6 New England states will already face early morning travel issues. Reduced visibilities and slippery roads won't make the commute to work enjoyable, so if you have the option of working from home, you'll probably enjoy it more by leaving the hassle of traffic behind. Otherwise, start planning to set an alarm earlier to get out in time.
Another reminder is to top up your wiper fluid, keep the snow scraper handy, and make sure your snow thrower is ready if you live in areas where snow can be cleared.
How much snow do we get?
Not everyone expects the same amounts, but much of Massachusetts should have an 8-12 inch range. It starts to get tricky when you look down into southern New England, south of the Mace. Pike will see higher temperatures, which means a remaining snow line to the south bringing rain, sleet and the potential for freezing rain near the CT coasts and in the Outer Cape. The southern counties of Bristol and Plymouth will also see a transition from southern counties to get a 2-4″ range and increase it in the Isolated Range from 8-12 inches as they approach the Massachusetts border.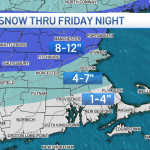 Wind speeds are likely below 50 mph for the most part, helping to reduce the risk of power outages somewhat, although heavier wet snow and winter mixing may impact communities in the south and south. South East. That's yet to be determined as we follow the snowline and see how far south it stays.
Our Saturday will remain dry and cold, while our Sunday could bring snow to northern states. Highs in the 30s on Saturday, near the 40s on Sunday and back down to the 20s early next week.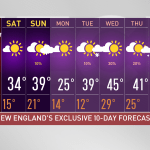 Stay informed of local news and weather. Get the NBC10 Boston app for iOS Where android and choose your alerts.