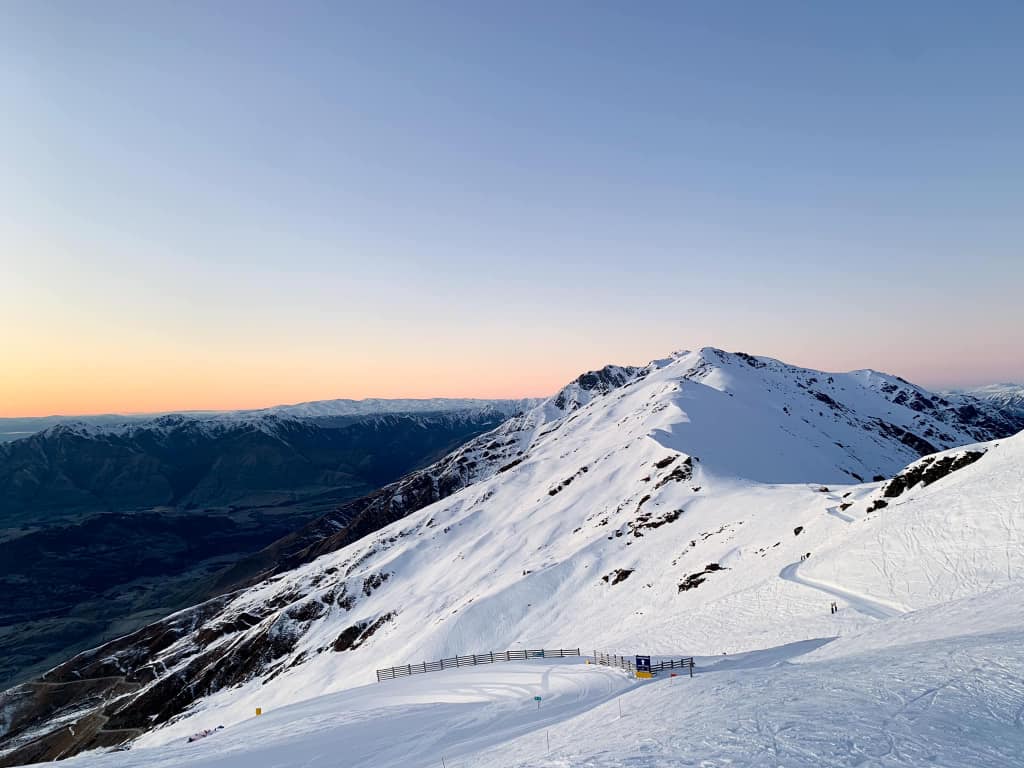 New Zealand Weekly Snow Forecast, Monday August 15 – A Wet And Windy Week Ahead
mountain watch | The grasshopper
Valid from Monday August 15 to Sunday August 21
This week sees a major change in the weather pattern across Aotearoa in New Zealand. While the past fortnight has brought a few days of mint bluebirds and added to a healthy snow pack in fields across the South Island, New Zealand's ski areas are likely to see a mass of warm air and humid lead to deteriorating weather conditions throughout the week. There is a significant risk that heavy rains will reduce existing snow accumulations.
A weak cold front swept across the South Island on Thursday with rain turning to snow from Mount Hutt south to higher levels, although snow accumulations appear marginal. A brief ridge on Friday brings the best chance of favorable weather for the South Island, while the North Island is unlikely to have a day without rain or wind outside of Tuesday.
Bad weather could persist through the weekend, with rain and gusty northerly winds for all fields bringing less than desirable conditions, although it could turn to snow for southern fields on Sunday . Early next week, a ridge brings clear skies and waning rain for the first two days before a cold spell (and accompanying wintry showers) sweeps across the country from the mid of the week.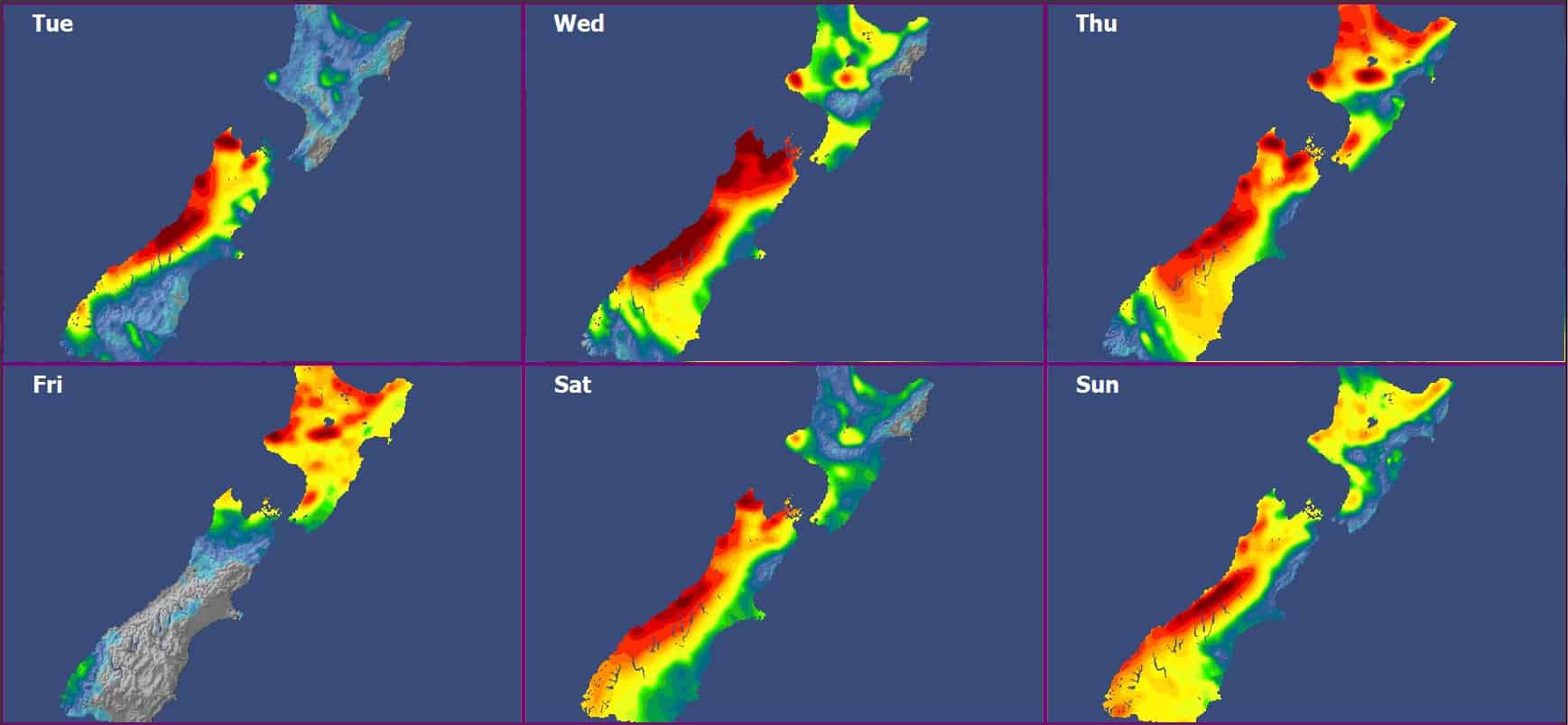 tuesday 16eAugust
Rain and strong northerly winds are chosen for the South Island ski areas, while the North Island sees a few showers in the northern flow. This is especially true for Whakapapa, while Turoa is the place to be as it is somewhat sheltered.
wednesday 17e– Thursday 18eAugust
Weather conditions are becoming inclement everywhere, with gusty northerly winds and (sometimes heavy) rain spoiling any possibility of winter activities on both islands. Hanmer can see shelter to some extent, although rain is still likely.
A weak cold front is sweeping across the central South Island on Thursday, with rain potentially turning to snow at high levels from Mount Hutt southward, although a major spill is unlikely at this stage.
Friday 19eAugust
Rain persists on the North Island, while a ridge provides more favorable conditions on the South Island. As the wind and rain ease in the south, a bluebird day can be challenging as some cloud cover is still expected.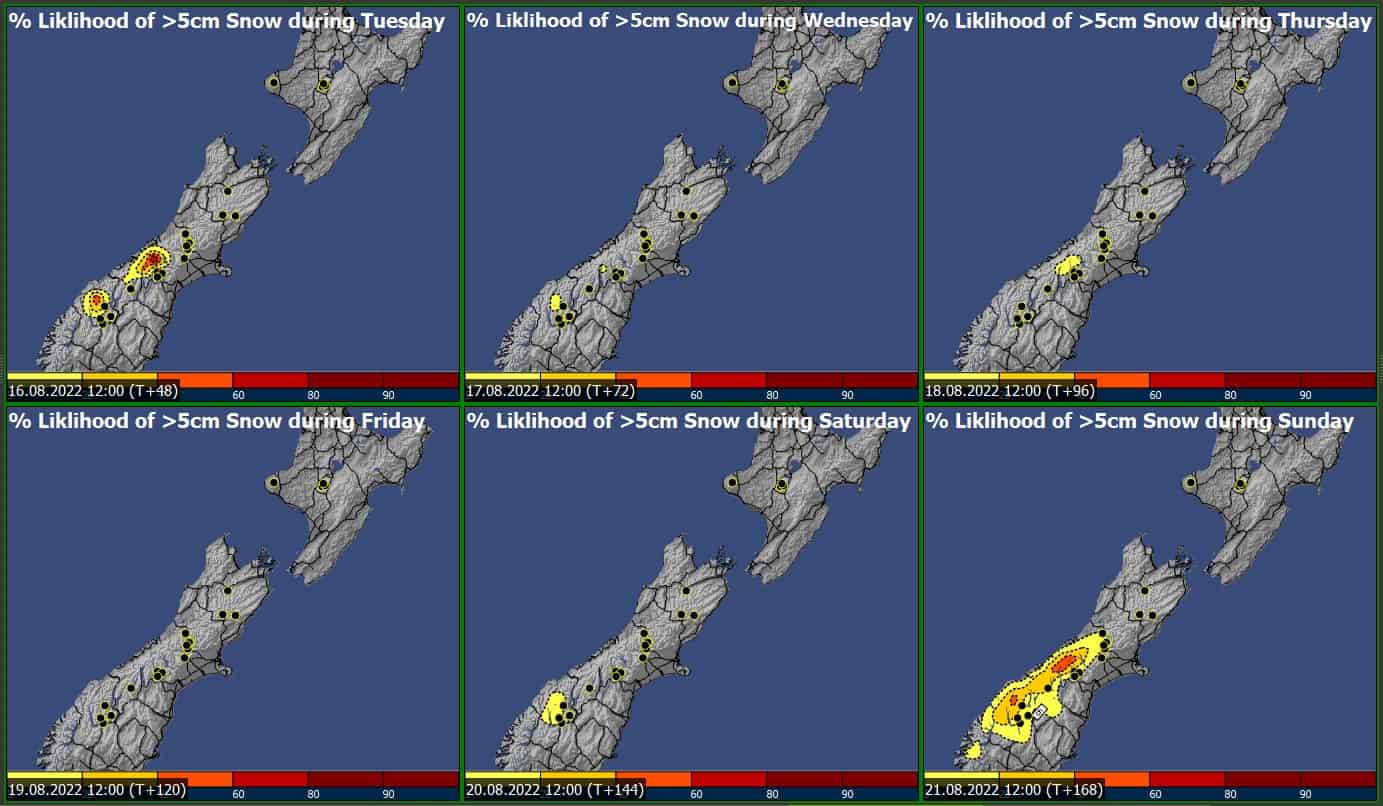 saturday 20e– Sunday 21stAugust
Adverse weather is likely, with another round of strong northwesterly winds and rain on Saturday.
Winds tending to the SE on Sunday as a low pressure crosses the South Island, bringing a risk of snowfall at the far end of the system. Like Thursday, it will likely occur from Mount Hutt south.
Extended Outlook
There is potential for skiable days early next week, then a shift to cooler southwesterly winds around the middle of the week brings the next decent hit to a measurable snow pack.