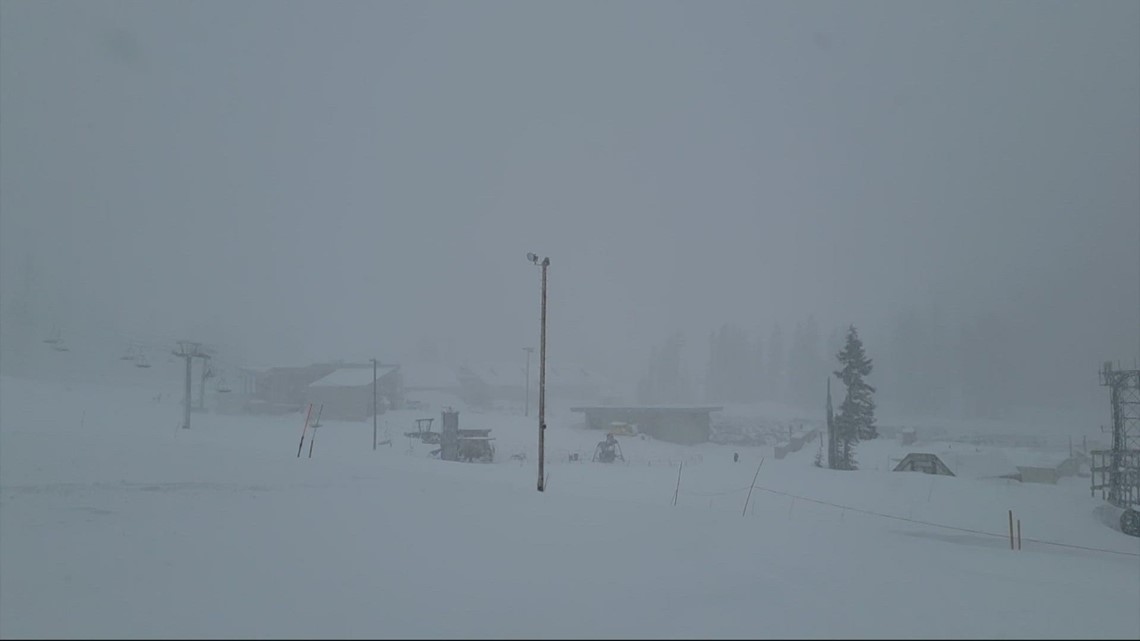 Mount Hood Ski Resorts Welcome Spring Snow
Mount Hood Meadows had fresh powder on every run Monday after a historic spring snowstorm hit the area.
MOUNT HOOD, Ore. — A snowstorm in April caused road closures, power outages and school closures, but it also brought smiles to Mount Hood.
"It's a great pick-me-up for April. I mean, here we're talking about spring skiing and our spring package – and we're full of winter at Mount Hood Meadows"said Dave Tragethon.
Tragethon is vice president of marketing and sales at Mount Hood Meadows. He played a dual role on Monday morning, stepping in to clear the snow overnight.
"In order to get our lifts working today, they had to get the vice president of sales and marketing to come and move the snow at the bottom of Mount Hood Express and set up a rope," he said. "So that's how it is on Mount Hood Meadows with this storm."
As of 12:30 p.m. Monday, Tragethon said they had already accumulated about 3 feet of snow from the April blizzard.
That means lots of powder on the slopes. But Tragethon says with great powder comes great responsibility. You have to be prepared and it starts before you even get on the mountain. Be prepared for winter driving conditions. Tragethon invites visitors to watch TripCheck and the Mount Hood Meadows website before you travel.
RELATED: Highway 26 reopens in both directions after being closed due to April snowstorm
Prepare your luggage according to the weather. Tragethon says you'll want to bring a shovel if you park in the parking lots.
"You may need this shovel to help you get out of the parking spot you pulled into this morning," he said.
He says the recent snow is a great opportunity for skiers and snowboarders to try powder skiing, but you need to know your limits and exercise caution.
"When you're on the trails, those are the types of conditions we tell everyone: you ride with a buddy and you keep them in sight," he said.
According to Tragethon, Mount Hood Meadows receives an average of 430 inches of snow every year. Snow totals were much lower than April, but he says we will exceed that average thanks to this storm.
Mount Hood Meadows will continue the spring season until May. Closing is scheduled for May 7.
RELATED: Portland Commissioners Say Temperature Threshold Should Be Reevaluated After Emergency Shelters Didn't Open For Snowstorm