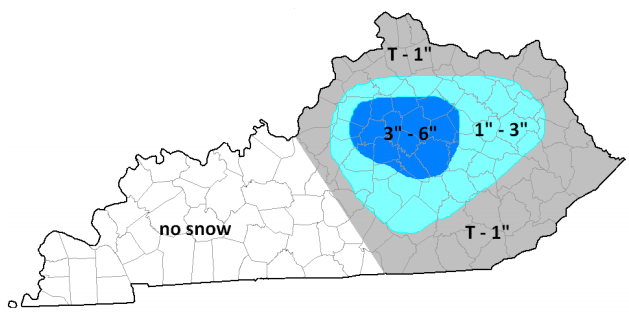 Last spring snow | Weather blog
Don't panic, we don't anticipate a major snowstorm here. But as a cold front arrives this week, it is possible that a few snowflakes will mix with the raindrops. With that in mind, I was (Hannah) curious about our last spring snowfall in Kentuckiana. Good news – the National Weather Service keeps records on this!
The last snowfall in Louisville occurred on May 20, 1894. The Louisville NWS office wrote: "Cold Canadian air flowed south between high pressure on the high plains and low pressure. going up the east coast. moisture as far west as the blue grass of Kentucky. "Louisville received only a" trail "of snow that is less than a tenth of an inch but greater than zero. However, other communities from Kentucky saw a lot more snow than that! Here are some more snow totals from that day (via NWS Louisville):
Lexington, Harrodsburg and Mount Sterling: 6 "
Shelbyville and Richmond: 4 "
Burnside and Eubank: 3 "
Sandy Hook and Shelby City: 2 "
Hendricks: 1 "
NWS also recorded a few comments from state weather observers which provide a very interesting account of this crazy snow! These are listed based on where the report came from:
Greendale (North Fayette County): "The snow was heavy – flattened all the wheat on the ground, breaking much of it".
Harrodsburg: "A remarkable snowstorm. Peach trees as well as many other species – vegetables, cereals are bent to the ground. Great destruction of fruit and shade trees as well as rye wheat.
Richmond: "Probably more snow fell on the 20th than four inches, but it melted so fast close to the ground. "
May 20 is the last snowfall in Louisville, but the last * measurable * snowfall (more than just a trace) occurred on May 6, 1898. It is also the only measurable snowfall to occur. never produced in May in Louisville. NWS wrote: "High pressure over the Great Plains combined with low pressure over the southeastern United States to provide enough humidity and cold air to trigger light snow over parts of the United States. Kentucky. This snowfall was not as abundant statewide, although more snow fell in Louisville compared to the May 20 event. Here are the totals via NWS:
Shelbyville: 2 "
Irvington: 1.5 "
Lexington: 1.2 "
Louisville: 1.0 "
Elizabethtown: 0.5 "
Caddo, Greensburg, Leitchfield, Owenton, Loretto, Shelby City and Scott: Trace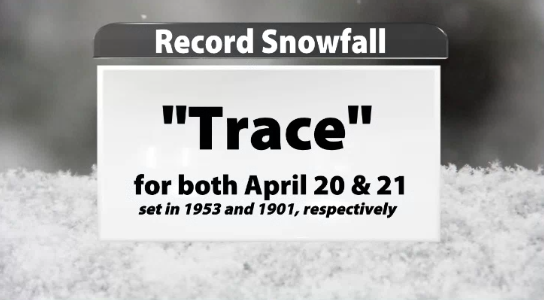 Keep checking out our blog and TV predictions in a day or two to stay up to date on the chance of seeing snowflakes this week. Even if we were to see measurable snow, it still wouldn't be the last snow we had in Louisville. However, if we get measurable snow in Louisville on Tuesday or Wednesday, that will set a record. The current snowfall record for April 20 and 21 is just a trace of snow. These records were set in 1953 and 1901 (also in previous years), respectively.