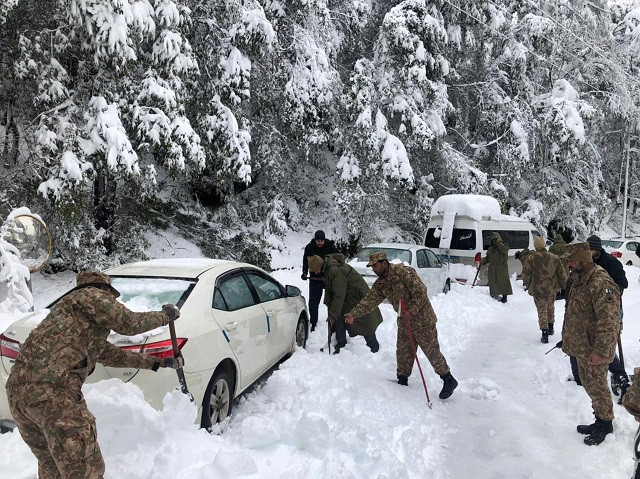 Inquiry report into Murree tragedy faces delay
RAWALPIDI:

The five-member body investigating the Murree tragedy did not conclude its investigation on Monday, missing its deadline to finalize findings when it appeared to be closer to conclusion, sources said.
The commission of inquiry, formed a week ago, may not deliver its report for a few days.
Sources familiar with the development said the committee was to prepare a draft of its findings – which was based on interviews with victims and administrative officials – and submit it to Punjab Chief Minister Sardar Usman Buzdar.
However, the commission of inquiry has now requested more time to prepare its report.
Sources further said CM Punjab is expected to hold a press conference to announce the details of the course of action taken in light of the report's findings.
Meanwhile, Punjab government spokesman Hasaan Khawar stressed that the investigation has entered its penultimate stage, adding that the investigation is the government's top priority.
He said the committee was developing recommendations related to the Murree tragedy.
The committee is headed by Punjab Additional Chief Secretary Zafar Nasarullah with Punjab Food Secretary Ali Sarfraz, Agriculture Secretary Asad Gillani and Additional Police Inspector General Farooq Mazhar as members.
The four-member committee has so far interviewed and collected records from various departments, including the district administration, police and Rescue 1122. Sources said the team will conduct a comparative assessment of the statements made. by survivors and administrative officials before drafting its findings.
Read more: IHC Holds NDMA Responsible for Murree Tragedy
Earlier, the local government launched a crackdown on illegal structures that are creating road closures in Murree on the recommendation of the investigative body.
On Friday, preliminary inquest findings revealed that 20 of 29 snow removal machines and snowmobiles did not respond quickly to the Murree incident which claimed the lives of 22 people.
The investigation found drivers and other staff were also absent from duty despite several warnings issued by the Met Office about a severe snowstorm through print and broadcast media.
The nation was stunned when news of 23 deaths from a deadly blizzard in Murree hit mainstream and social media. The deaths of tourists, including women and children who had flocked to the scenic spot to witness the snowfall, was nothing short of a tragedy. Visitors froze to death in their vehicles amid tons of snow in the surrounding area as a blizzard gripped the valley.