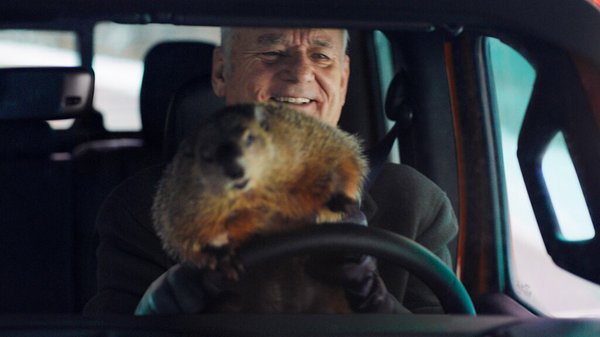 Central Missouri road crews report some issues during 2022 Groundhog Day snowstorm
Much like the 1993 film, Mid-Missourians may have felt like they were reliving the past on Wednesday's Groundhog Day.
In "Groundhog Day," the film starring Bill Murray, a cynical TV weatherman, finds himself reliving the same day over and over again when he goes to film a report on the annual Groundhog Day event in Punxsutawney, Pennsylvania. .
For residents of Mid-Missourians on Wednesday, Groundhog Day had many similarities to a blizzard that hit in 2011. In that storm, much of the state was under a blizzard warning, and Jefferson City picked up almost 2 feet of snow. The storm 11 years ago also led to a rare event – authorities closed Interstate 70 because it had become too dangerous to drive on.
Wednesday's storm wasn't as dramatic as the 2011 storm, but it was bad enough, officials said.
Twenty-five Cole County snowplow drivers reported for work early Wednesday morning. The rain has started to change to sleet in the northern part of the county near Centertown. Pavement temperatures began to drop and hit freezing soon after, with sleet turning to snow between 2 and 3 a.m.
"Although we have a lot of snow, things have been going really well so far," said Eric Landwehr, director of public works for Cole County. "We had 23 routes and new people were driving around in a few trucks to get familiar with where they will be working in the future."
Landwehr said they need to get the main road team back at 6pm and bring in a small team of relief drivers to drive the main roads to keep them passable until the regular team returns early this morning. He added that two trucks were stuck, but said that was not uncommon for this type of snow.
Britt Smith, operations division manager for the City of Jefferson's Department of Public Works, said their crews also started around midnight. When the weather broke on Wednesday afternoon, drivers started adding calcium to get down with the salt they were spreading on the streets.
"Adding this allows the salt to activate and become more effective at lower temperatures," Smith said. "That should help us when we go out for the second part of this storm."
During a normal storm, which would be considered a 4 to 5 inch snowfall, Smith said, crews could likely open all of the city's roads in about four to five hours.
"It's different from that, so maybe five hours or a little more when the storm ends on Thursday," Smith said Wednesday afternoon. "It is hope. Our goal will be to make all roads passable by late today. On Friday, crews will continue to push snow and clear it from sidewalk to sidewalk if possible. »
Jefferson City garbage collection provider Republic Services said due to inclement weather, they weren't running routes on Wednesday. Company officials said they would resume services as soon as weather permits. They also asked residents to keep their garbage cans/recycling bins curbside.
Statewide Response
Roads, highways and highways in central Missouri were blanketed in snow Wednesday as the extended 36-hour winter storm lingered.
While the Missouri Department of Transportation (MoDOT) had all available crew members working 12-hour shifts, the current rate of snowfall made clearing the roads difficult.
"Since this started the roads have been covered pretty quickly and they've stayed covered," said Adam Pulley of MoDOT. "It's definitely, you know, dangerous out there with the roads covered and just a lot of slippery places. We're seeing landslides and a lot of stuff out there, so it's definitely a really bad storm. winter so far.
Because the snowfall was preceded by rain, MoDOT was unable to process the roads in advance, Pulley added.
The MoDOT strived to keep the roads as clear as possible and encouraged drivers to slow down and take their time on the road.
The storm was the result of moisture from the Gulf of Mexico merging with a cold Canadian air mass. Waves of snowfall were expected to continue into today as temperatures drop into the mid-teens.
Due to poor weather forecasts for the next few days, Amtrak has announced that cross-state Missouri River Runner trains scheduled to run today and Friday have been canceled. For more information, visit amtrak.com for a full list of weather-related cancellations.
National Weather Service meteorologist Melissa Byrd said after riding through the second wave of this storm, which is expected to last Wednesday evening through this morning, the region could return to its normal seasonal snowfall total, or above. of this brand.
As of Wednesday morning, 6 inches of snow was reported by an observer at Jefferson City in the NWS while an observer at Holts Summit reported 5 inches of snow. At Columbia Regional Airport, the official NWS reporting station in central Missouri, 7 inches of snow was recorded.
"For the second half of the storm, we expect between 3 inches of snowfall in northern Boone County and potentially 7 inches in Cole County," Byrd said.
On Tuesday, before the storm hit, Columbia Regional reported 4.1 inches of snowfall for the winter. For all of last year they were 5.6 inches, and in a normal season they would get 10.4 inches.
The good news, Byrd said, was that the long-range forecast pointed to dry conditions through next Thursday.
"Any snow on the ground will affect temperatures as we're only looking for highs in the 30s over the next few days," Byrd said.
But on Groundhog Day 2022, the world famous groundhog that captured the imagination of Americans for generations and was the subject of the 1993 movie had a slightly less optimistic forecast.
Punxsutawney Phil predicted six more weeks of winter after seeing his shadow.
News Tribune reporter Ella McCarthy contributed to this report.